Domain Name of the Day
Today's first interesting domain name is:
Indeed.com
I had the TV on while I was cooking last night… or opening up the takeout, however you want to say it and I noticed this ad for a job site called Indeed.com.
Jobs/employment/recruitment type sites have always been popular on the internet and you used to see a lot of them advertising like crazy all over the place back when the bubble was in full swing and everyone was trying to get their site attention and job placement ads.
Over time those sites consolidated or went out of business, but it is still a huge market for domain names, city names, location specific or niche job specific sites so I was surprised to see Indeed.com advertising on primetime tv with a brandable domain.  In my recent discussion on brandables for domain names I focus more on the positives associated to them, but this warrants a bit more discussion.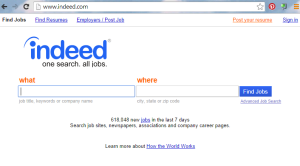 I see where they are going with Indeed because it is a simple search interface that you could easily glance at and mistake for Google's interface. Clean and simple which I like.
There are two main points I want to get across and I want you to think about how you use domains in real life.
Point 1 is that domains need to be easily remembered for ads like the one above to be effective as well as recognizable to people when they go to search for it online after they've seen the ad – or the name has to be so obvious that it catches your attention and you easily associate it to what you are looking for…
If you asked me to name the top job sites on the internet, Indeed wouldn't have come to mind even though their site says
As the world's #1 job site, with over 140 million unique visitors every month from over 50 different countries, Indeed has become the catalyst for putting the world to work.
140 Million uniques is a lot of traffic for any site!
In this example, I know I have seen Indeed.com ads before, but since I wasn't looking for a job I didn't remember the name. Even if I did, it would be easy to forget because my brain doesn't associate that word to jobs in any context.
If I went to search for a job and I saw two listings on the top results of Google – one with the Indeed.com domain name and one with any of the following domains(Jobs.com, Nashville.com/jobs, GeekJobs, whateverJobs.com) I would click the other domain 99% of the time because it makes sense and is in context.
Point 2 is that they probably spent a good bit on this ad and other ads.  They probably spend well into the 7 figures advertising to get those 140 Million visitors and the associated businesses to post jobs on their site.  I don't know that they don't have additional domains, but using a brandable that is not easily related to what you do makes you spend a lot of money advertising to get people to associate your name to an industry.  Very tough and expensive to do.
Domain Name Pros:
One word dictionary Domain
Short
6 letters
Pronouncable
Common
Domain Name Cons:
Brand doesn't easily associate to job market
It isn't that memorable to me because it isn't a catchy word or a word that is used in most people's daily vocabulary
It takes a lot of additional effort, advertising, and money to get customers and for people not looking for that at the time they see the ad they won't remember or associate it when they do start looking.
Today's Second interesting domain name is:
Well, this time it isn't even a *domain*, but it is related to this domain because it is a great discussion on one word .com's and the use of great domains in business and how they can help.
Michael Cyger over at DomainSherpa.com has an interview up that discusses this exact issue so go check it out, subscribe to his podcast or at least listen to this one and decide for yourself.
As with each of these daily posts, you can comment below with ONE domain name you have for sale – must give the exact name, own it yourself, prefer pricing BIN.  And today I would like any one word or brandable Domains you have, but any good domain is fine if that isn't your thing.
Let me know what you think!