Domain Name of the Day
Today's first interesting domain name is:
Indeed.com
I had the TV on while I was cooking last night… or opening up the takeout, however you want to say it and I noticed this ad for a job site called Indeed.com.
Jobs/employment/recruitment type sites have always been popular on the internet and you used to see a lot of them advertising like crazy all over the place back when the bubble was in full swing and everyone was trying to get their site attention and job placement ads.
Over time those sites consolidated or went out of business, but it is still a huge market for domain names, city names, location specific or niche job specific sites so I was surprised to see Indeed.com advertising on primetime tv with a brandable domain.  In my recent discussion on brandables for domain names I focus more on the positives associated to them, but this warrants a bit more discussion.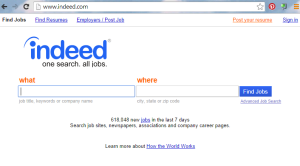 I see where they are going with Indeed because it is a simple search interface that you could easily glance at and mistake for Google's interface. Clean and simple which I like.
There are two main points I want to [Read more…]